In the best of circumstances, [strategic planning] will be challenging and uncomfortable.
For historically white-led organizations, incorporating racial equity into strategic planning right now is like pushing a boulder up a hill.
In the best of circumstances, this process will be challenging and uncomfortable.
There are four types of people in this process.
Some boulder-pushers are Black, Indigenous, and People of Color leaders and staff at these white-led organizations. Sometimes though, these individuals may get tired of pushing and decide to give up because they feel that they're carrying too much of the weight. 
(Often, these individuals get fed up after seeing some of their white colleagues sabotage their efforts by pushing the boulder down the hill, in the other direction!) 
Another kind of person in this process are white leaders who don't actually want the boulder to arrive at the top of the hill; they just want to hold onto the rocks of power that they've been holding onto for a long time. They have power, they don't see how it is in their interest to give it up. They haven't started their equity journey; they may never start.
But there are some committed white boulder-pushers — white people who are open to building an equitable process, stepping back from power, and working within a multiracial group of planners, thinkers, and doers.
As a white person who works towards justice and equity, I'm writing this piece for this fourth group, the white boulder-pushers. (This particular essay is not meant for BIPOCs because white people created these inequities and so white people need to do the majority of the work to clean it up!) To be honest, I wish I didn't have to start with such a "heavy" opening (😊), but as a strategic planning consultant, I'm hearing from a high number of historically white-led organizations who want to incorporate racial equity into their work going forward. I want to be honest about what is involved in this work as well as share a couple of keys to do this in a way that is authentic and impactful.
Before we go into equity, it's good to define strategic planning. In a nutshell, strategic planning often encompasses three key questions, each of which can be larger or smaller, depending on the process:
Who are we, in the context of our community and environment?

What do we do best and feel pulled towards?

Given #1 & #2, what should we do now?
Given that framework, here are a couple of keys for white-led organizations to be more poised for success when infusing equity into strategic planning:
Key 1: Be prepared for a process of culture change
If we're going to talk about infusing strategic planning with equity, it feels important to all involved to understand what equity is. I use the following two-part definition:
Systems are shifted so that Black, Indigenous, and People of Color (BIPOC) who have been historically and systematically disadvantaged in terms of access to wealth, power, education, and health have the resources to enjoy full, healthy lives. 
People closest to the problems are weighing in on the solutions. People with the lived experience around the challenges that an organization focuses on should be the ones with the power to weigh in. A strategic plan is only as good as the lived experience of the people weighing in and making decisions throughout the planning process.
Here's the thing about systems: They aren't just somewhere 'out there.' They're with us, in the historically white-led organizations that many of us, people of all races, work in every day.
If we are going to be genuine and not superficial about shifting systems, there is deep culture work that needs to be done. A description of this comes from my colleague Lynn Johnson.
Lynn is a Black woman who is an entrepreneur, educator, and arts creator. I originally met her when she was cofounder of a local kids' camp, Spotlight:Girls. Her work has since transitioned to leading a consulting firm working on culture change towards racial justice.
Lynn recently shared the work that her firm, Hella Social impact, has done with Akimbo, an online training program for entrepreneurs, and Akimbo's reflections on this work. Akimbo's commitments now include:
 

understanding the role Akimbo was playing in perpetuating racial inequality and implicit biases,

 

creating an environment where everyone can thrive and where leadership reflects the diversity in its community,

 

including and amplifying more Black voices inside of their workshops,

 

developing a new coaching training program that centers on being antiracist, and,

 

opening space inside each workshop to have honest and open dialogue on racial equity, systemic change and white supremacy.
This is how Lynn describes the process for white people, and for Akimbo specifically: "All they (white folks and white-led businesses) have to do is practice courage, imagination, humility, and deep empathy on a daily basis. Plus, make the choice to commit to the work one-hundred percent, despite the wrenching discomfort of change and the overwhelming pain of making mistakes that cause people harm."
I found this so powerful. This is not easy! But there is a path forward. And for white-led organizations, this involves looking deeply at the culture of historically white-led organizations with courage, imagination, humility, empathy, commitment, and the willingness to be uncomfortable in order to make true change.
Key 2: Use assessment questions throughout to keep the process on track
At a recent presentation for The Gathering of the Alliance for Nonprofit Management, Dorian Spears, currently the National Program Partnerships and Strategy Lead for GET Cities, shared the Racial Equity Impact Assessment (REIA) Tool from the Race Matters Institute.
The REIA encompasses five questions that can be applied to strategic planning:
Are all racial and ethnic groups affected by the policy/practice/decision

at the table

?

How will the proposed policy/practice/decision

affect

each group?

How will the proposed policy/practice/decision

be perceived by

each group?

Does the policy/practice/decision

worsen or ignore

existing disparities?

 

Based on the above responses,

what revisions

are needed in the policy/practice/decision under discussion?
These questions are a filter to determine whether a strategic planning process is incorporating equity.
In reviewing the REIA, a question that comes to mind is: What happens if the answer is no, or planners don't have enough information to know the answers? 
I asked Dorian about this at her presentation — she said that if a planning process can't answer these questions, the group should step back and consider what kind of plan they want to put into place. This is why doing the culture change work mentioned in Key 1 feels so important.
Key 3: Draw on relationships across race, privilege, and power to keep processes meaningful and honest
Many white leaders are doing this work because we deeply believe that we each win when our society moves towards equity and justice.
But that's abstract.
On a more concrete level, I see this work deepening through individual relationships. 
For an organization I worked with recently, the leadership's motivation to build a more equitable strategic process emerged through cross-race conversations between white staffers and Black and Latinx staffers.
This organization already had a culture of listening to one another. They used this strength in strategic planning to center the experiences of Black and Latinx staff members.
To be clear: white staff members understood that they needed to do their own individual learning about racism and antiracism.  They were not depending on BIPOC staff to be their teachers.
But sometimes they needed the help of their BIPOC colleagues to be honest about when they, the BIPOC staff members, did not feel a sense of belonging.
During the process, white staffers started listening more, and acted with empathy and humility, out of caring towards their BIPOC coworkers.
This is a powerful idea. When we care about people, we take their interests and perspectives into account. As we, white people, listen across race, the limits of our lived experience become more obvious, and we see that we must step back so that the people closest to the problems can determine the solutions. That care — across differences — builds motivation for change.
So I know we need to continue to move towards policies that support equity. I also believe that what will give us the strength to do this are cross-race relationships.
So — this work can be challenging and discouraging. And yet — there is a lot of positive to gain.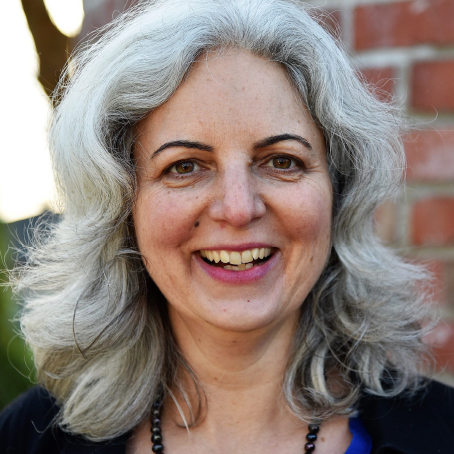 Renee Rubin Ross
Renee Rubin Ross (she/her) is a recognized leader on board and organizational development and strategy and the founder of The Ross Collective, a consulting firm that designs and leads inclusive, participatory processes for social sector boards and staff.
Committed to racial equity in the nonprofit sector, Dr. Ross supports organizations and individuals in practices that celebrate and amplify diverse voices and perspectives.
In addition to her consulting work, Dr. Ross is the director of the Cal State University East Bay Nonprofit Management Certificate program and teaches board development and grant writing for the program. Dr. Ross lives in the San Francisco Bay Area with her family. She is a board member of the Alliance for Nonprofit Management. Dr. Ross writes regularly on nonprofit strategy, racial equity, and learning. Subscribe here. She can also be connected with on LinkedIn, Twitter, and Instagram.