Some students and alumni love the song despite its racist origins. Until recently, the UT Austin band played it at the end of games and other school events.
Focusing on social justice and equity in philanthropy sounds like it should not be a new concept. Most people have dropped money into their church's collection plate or bought a box (or three) of Girl Scout cookies. Philanthropy is all about charity and compassion, right?
In reality though, charity and compassion are actually contrary to the way many powerful institutions operate.
Take the recent example of The University of Texas at Austin's response to open records requests on donor responses to changing the Eyes of Texas school song, a tradition that perpetuates racist origins.
"The Eyes" lyrics were written in 1902 by a white male student — the only demographic allowed to attend colleges at the time. The key song phrase,"The eyes of Texas are upon you," was drawn from former UT Austin President William Prather. It has long been reported that Prather, who graduated from Washington and Lee University, borrowed the phrase from his own college president, Robert E. Lee, who was employed at the school following the Civil War.
As of March 2021, the University's collective report, compiled by a 24-member committee, on the history and intent of the song lyrics found that while the content reflected racial aspects of its time, the group recommended that the song stay intact. The committee did not find a link showing that Robert E. Lee commonly used the "eyes of ____ are upon you" phrase.
It did, however, find evidence that the wording was inspired by Confederate brigadier general John Gregg (of Texas) who warned Confederate soldiers that "the eyes of General Lee are upon you!"
Some students and alumni love the song despite its racist origins. Until recently, the UT Austin band played it at the end of games and other school events.
Here's a sampling of responses from angry, out-of-touch donors that were sent to the university:
"UT needs rich donors who love 'The Eyes of Texas' more than they need one crop of irresponsible and uninformed students or faculty who won't do what they are paid to do."
"It's time for you (UT) to put the foot down and make it perfectly clear that the heritage of Texas will not be lost … It is sad that it is offending the blacks (sic). As I said before, the blacks are free, and it's time for them to move on to another state where everything is in their favor."
"Less than 6% of our current student body is black (sic) … The tail cannot be allowed to wag the dog … and the dog must instead stand up for what is right. Nothing forces those students to attend UT Austin. Encourage them to select an alternate school … NOW!"
If you couldn't guess, we think these quotes are terrible and not reflective of us as Texans.
In terms of steps to move the UT community forward, the committee suggested the full history of the song be integrated into orientations and other university communications. The committee also recommended the formation of an initiative to encourage UT Longhorns to lean into racial conversations and work through different perspectives. We'll see what progress those yield.
What does this mean for UT philanthropy … and university philanthropy in general?
Moreover, with a $30.1 billion endowment, second only in size to Harvard University, we believe that UT Austin is uniquely positioned to serve as a role model for others to stand by their institutional values and not sway to donor wishes.
While Black students may not be the majority at UT's flagship campus, they deserve to attend a collegiate institution that owns and is working to rectify past and current institutionalized racism.
The Eyes of Texas History Committee report issued on March 9 provided a clear history of the song and a set of next steps for the university, but the urge to maintain the status quo is a risk to real healing and transformation.
Instead of bowing to the wishes of a few wealthy, similarly-privileged donors, the university should stand firm on fulfilling its core value of individual opportunity (many options, diverse people and ideas, one university).
The continuing donor-driven act of hostility and fear-mongering, as shown above, also speaks to a need for change within philanthropy. We need to draw attention to a new way of thinking and behaving: Community-Centric Fundraising (CCF) Principles, which was developed in response to practices commonly known as donor-centric fundraising. Instead of centering the feelings and desires of donors, the CCF Principles instead ask if the communities in which nonprofits serve are being valued through our actions.
The CCF Principles call for accountability as an act of love, leveraging a painful history to heal and transform into something better. It requires us to make a new table, one where the voices of those who are most affected by a decision sit at the head.
What UT is doing by retaining and cultivating relationships with donors whose beliefs and values directly contradict the existence, value, and needs of its Black students is contrary to several of CCF's ten core principles:
Principle 1: Fundraising must be grounded in race, equity, and social justice.
Principle 6: We treat donors as partners, and this means that we are transparent, and occasionally have difficult conversations.
We, as a group of organizers in the Community-Centric Fundraising movement in Texas, reject the scarcity mindset that creates what CCF co-founder Vu Le calls the Nonprofit Hunger Games.
Instead, we embrace an abundance mindset, where the most powerful country in the world chooses to take care of its own. Instead of placing higher value on donor opinion based on their lifetime giving, we demand that UT Austin filter its decision-making through its own core values. Moreover, with a $30.1 billion endowment, second only in size to Harvard University, we believe that UT Austin is uniquely positioned to serve as a role model for others to stand by their institutional values and not sway to donor wishes. This is a crucible moment to show other institutions, most smaller than UT Austin, what justice-minded decision-making looks like.
And, for the record — we agree: What starts at UT Austin can change the world. UT, we invite you to a Community-Centric Fundraising-centered conversation and welcome the opportunity to share our thoughts on how UT Austin can stand up and truly serve its diverse set of talented students.
To connect with CCF's Texas chapter, email ccfundraising.texas@gmail.com.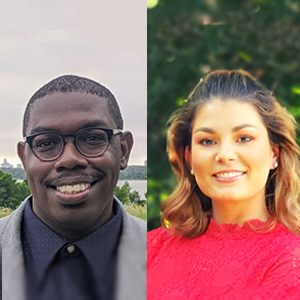 Marcus Cunningham and Michelle Vryn
Marcus (he/his) and Michelle (she/her/ella) are from CCF's Texas chapter.
Marcus Cunningham is a Black fundraiser determined to flip tables in the name of liberation. Born, raised, and currently residing in Dallas, Texas, he currently serves as Associate Director, National Development at New Leaders. He is passionate about creating a world where nonprofits are fulfilling and sustainable for those who make it their profession, and consistently useful for the communities that support them. You can find him enjoying the (extended) newlywed life, cheering on the Dallas Mavericks, or attending a local pro wrestling show when it's safe to do so. He is a graduate of The University of Texas Rio Grande Valley. Find him on LinkedIn.
Michelle (Flores) Vryn, CFRE has worked in almost every area of development: institutional giving, major gifts, membership, capital campaigns, consulting, special events, and annual giving. She has a healthy obsession for equitable social impact and currently serves on the Association of Fundraising Professionals (AFP) Global's Marketing, Awards & Communications Committee. Michelle lives in Austin, Texas and is always down for spontaneous outdoor adventures and dropping in on live music. She is a two-time graduate of the Hispanic Serving Institution (HSI) The University of Texas at San Antonio. Find her on LinkedIn to keep the CCF convos going!