"Institutionalized"
The art that I love
Erases me.
The art that I love
Does not love me back
But it certainly loves:
My money/My youth
The color of my skin/My queerness
It does not love my identity;
The ties to the communities that will
Not feed its fire belly
Called, its expenses.
None of which are
For me.
The art believes itself to be
On a higher
level.
That it is generous for existing
Benevolent for allowing me to be a part of it.
It certainly does not like it when
I want the color of my skin
On stage/On staff/On audiences.
It will fake smile seeing me, give me a helping hand
Telling me that they "can't wait for me to come back"
As they make the art form harder for me to access.
They speak of community engagement/outreach/education
Make a lobby for people like me
Make events set just for people like me.
They also made a VIP lounge in that lobby.
Tell us that those seats/that space are only bought
By contributing at a level that is too fucking high.
The art that I love
Are theatres/museums/orchestras/ballets/operas
Whatever floats your boat.
They know they are sinking right now,
Without us they are diminishing.
Their regulars dying of old age
Their potentials not interested in the
Same Mozart/Puccini/Stravinsky/other dead white guy
That has been played for centuries.
When then do hire one of us, they say
We've fixed it. This diverse problem
We've done it
And then, this miraculous thing happens…
Nothing.
Just a lot of weight on one brown person
To represent more than he can handle –
Oh that's right they hired a man –
More than he knows, more than he can represent.
I want the art that I love
To listen to me
To have people like me on stage
To hire people like me.
This doesn't need to be poetical or political but,
I want the art that I love
To love me
To love people beyond me
More than my money
More than my youth
More than my queerness
More than the color of my skin
To. Love. Me.
The way I used to love them.
Artist statement
This piece was written as a response to feeling that, most of my life in the arts, I've been made to feel that arts organizations and their products were not made for me and that it was an honor, a luxury, to even experience them. As a queer Mexican-Statesian who earned a Bachelor of Music, a Master of Arts in Arts Administration, and who now works in fundraising for an opera company, it seemed that no matter what art form I consumed or participated in, there was always this weird dichotomy that they wanted me because of the fact that I was queer, and/or brown, and/or young — but then they never made the effort to continue that relationship beyond that first visit or even because of that.
I titled this piece "Institutionalized" because that feeling of being wanted (which really was so they could feel good about themselves) was so ingrained throughout my education and experiences that when organizations finally began talking and somewhat taking seriously the discussion of diversity and inclusion (and not really equity and justice yet), it felt off-putting and disingenuous.
This is on top of the continuing problem of representation that they keep wanting and asking for more of but never truly doing much to grow it in many parts of an organization.
In essence, this piece is a retaliation to the many ways arts organizations keep not putting the money and true effort behind their solidarity and DEI statements.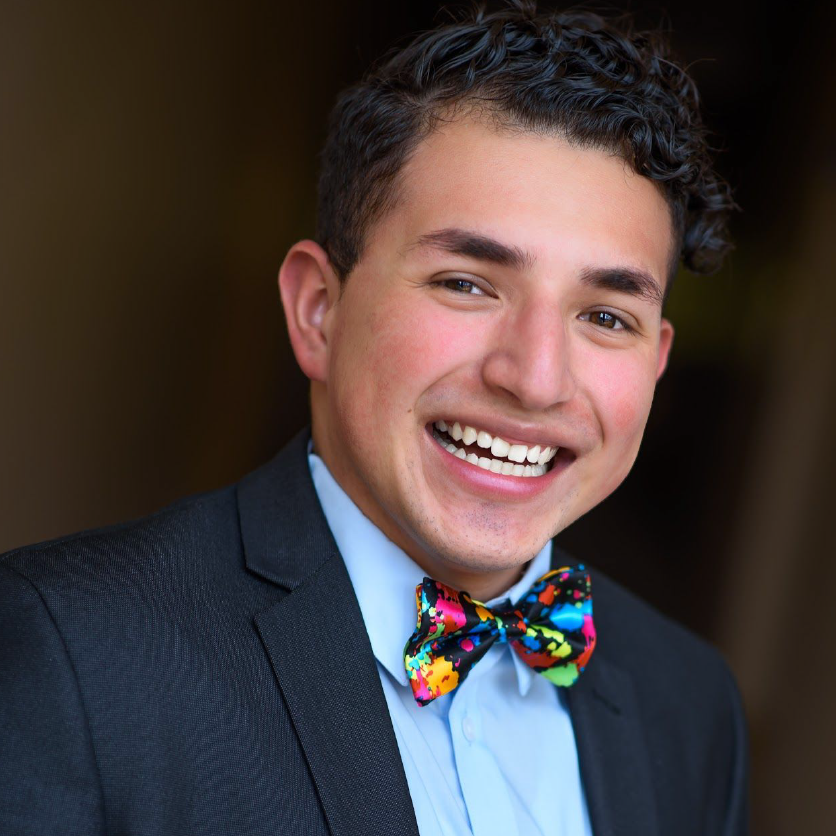 Carlos García León
Carlos "El Principito" García León (he/they) is a queer, non-binary, Latine, Mexican-Statesian spoken word artist, and also currently the Individual Giving Manager for Cincinnati Opera. Carlos's written work has been published nationally through Poetry Spoken Here and in multiple publications of the LA Zine, Young Ignorantes. Their work, both in the arts and through writing, is driven by a fight for cultural equity, decolonizing the arts, and social justice. Outside of working and writing, Carlos likes to stream TV and movies, read a good book, learn German, take naps under their weighted blanket, drink milkshakes, and look for the next poncho to add to their collection. They can be reached via email or on Instagram, Twitter, and other social media platforms @cgarcia_leon.