By Kendra Nicolai, Director of Operations at Shadhika
How do we ensure that global philanthropy is not causing more harm? As a white woman in the US, working for gender justice in India, the key was discovering how my own power and privilege were getting in the way of our path to decolonization.
When I was hired at Shadhika, a nonprofit working with women-led grassroots organizations in India, I joined the team as a Program Officer. I was a privileged white woman from the US, managing a scholarship program for young women in India. I had a decade of experience managing youth programs in Denver, Colorado, and was eager to start a new chapter, utilizing my master's degree in international development. I had always felt passionate about helping youth and felt this was a perfect opportunity.
Within the first two months at Shadhika, I flew to India for the first time. As much as it was exciting to visit each partner and scholar, I realized that I had a lot to learn. When decisions needed to be made about programmatic recommendations or changes, I struggled to know what to say or do. I could tell stories of the program to donors and supporters, but when questions arose about what was best for the young women, I did not have the answers. The burden fell on our partners and my colleagues, whom I leaned on for support.
What "decolonizing development" meant for me as a white woman working at Shadhika
I was worried about whether we would fail, was afraid to disappoint people, and not concerned enough about truly understanding the process of systemic change.
A year into my role at Shadhika, we hired a new Executive Director, My Lo Cook, who redefined the vision of Shadhika's work, centering around a feminist and decolonizing core.
As our team spent time reflecting on the foundation of our work and how to move the needle for gender justice in India, we had tough conversations with our partners, staff, and board about the power we hold as a funder and how we can deconstruct this.
"Decolonizing development" is a phrase that has been buzzing around the development sector. Notably, for Shadhika, it meant shifting the power from donors' hands to the communities we work in. It meant working with local organizations more than just as a funder, but as a partner, learning from one another, building trust, bringing more voices to the table, and leaving decisions about funding and programmatic priorities in the hands of the experts in the field.
While reflecting on my role in decolonizing Shadhika's work, I found myself resistant to change because my mindset was stuck in traditional thinking of "this is how it has always been done." And what we have always done was working, and was attractive to funders. I did not realize how problematic this mindset was because it protected my position. I was worried about whether we would fail, was afraid to disappoint people, and not concerned enough about truly understanding the process of systemic change.
At this point, I needed to do my homework.
How I learned to identify my power and privilege
How could I "decolonize development" while also holding on to the power to manage programs and dictate funding for grassroots leaders working with young Indian women when I had little context of their actual experiences and challenges?
So much of my career has been working directly with youth in some capacity, both in the United States and abroad. As a white woman working in the international development sector, I had to (and continue to) learn and unlearn harmful practices that ultimately hold back these communities we care so much about. I had a lot of inner work to do regarding anti-racist practices, decolonization, and learning about the power and privilege my identity holds. Working towards this meant that I had to let go of this "passion" of mine (my career) and understand the "purpose" of our work at Shadhika – whether that included me or not. Thankfully, Shadhika held space for me to reflect and reconsider my role within the organization.
Through this reflection journey, I attended Posner Center for International Development's Decolonizing Development Symposium, listened to and engaged with leaders in the field, and read many articles and books. The Trust-Based Philanthropy Project was one resource that helped me learn about the inherent power imbalances of global philanthropy, and the historical contexts that led to the bias of platforming voices from the global north. The book, Emergent Strategy: Shaping Change, Changing Worlds, by Adrienne Maree Brown brought to life many of the concepts and changes My was introducing at Shadhika, specifically around being true to our values and keeping our vision as the north star in everything we do.
Through these reflections, it was clear that my role as Program Officer was problematic. How could I "decolonize development" while also holding on to the power to manage programs and dictate funding for grassroots leaders working with young Indian women when I had little context of their actual experiences and challenges?
There were several moments where I could recall being in the way of true impact with the scholars at Shadhika. One example was the lack of understanding of contextual and deep-rooted historical oppression towards women and girls in India. Looking back at site visits, I realized more time was spent translating, transcribing, and teaching me the overall context of issues on the education system, child marriage, mobility, and lack of independence that girls face. I was being educated by our partners so that I could help inform the program strategy. It was clear that I was taking up space for someone in India who could manage this program more effectively, drive stronger support and collaboration, and have a basis for understanding the complexities of gender justice in India.
I realized this position as Program Officer was not for someone looking to continue following their passion for helping people. It needed to be someone who could use their knowledge and lived experiences to shape our grantmaking decision; someone who spoke the language and could listen, inform, and lead the young scholars through a formative phase of their lives. This person needed to be in India, and I was standing in the way.
Through discussions with My about these reflections, she affirmed and encouraged me to move into a new role at Shadhika that could develop my leadership and management operationally.
How we charted a new way forward
I have since moved into an operations role, managing behind-the-scenes work to ensure our program staff–all of whom are now based in India and representative of diverse Indian identities–are equipped and supported to carry out our grantmaking and program activities. I have learned to speak less, create more space to listen, and now I can have an influence on the structural and administrative work at Shadhika to ensure that we continue pushing for anti-racist, decolonizing practices throughout the organization and within the international development sector. I am continuously learning (and unlearning) what it means to be a white woman from the global north, working within the philanthropic context in the global south.
The Scholarship program is now flourishing under the leadership of our program team who are creating trusting relationships and building robust programming for young women in India.
We know we must trust grassroots wisdom — which includes acknowledging and adjusting those harmful practices — and that this journey towards decolonizing our work is a continuous learning commitment we must undertake. I am thankful for My's leadership and for bringing a decolonizing framework which helped me see where I needed to adjust and step out of the way to allow the work at Shadhika to grow and have the impact we intend.
---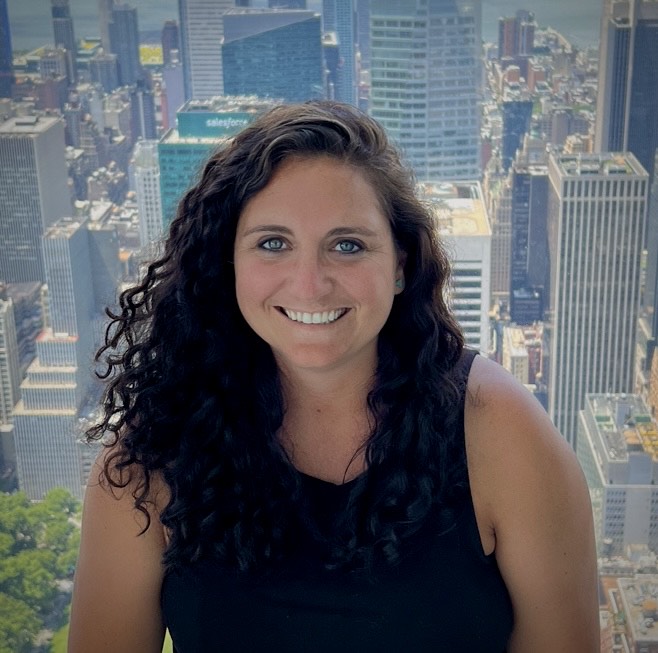 Kendra Nicolai (she/her) brings over a decade of experience working in the nonprofit sector, specifically within youth development. Beginning her career as a social worker, Kendra has learned and believes that empathy, trust, and curiosity are the anchors to positive relationships within a nonprofit, which provides an environment for systemic change. She brings experience in managing and developing high-functioning teams, is a problem solver, and is skilled in project management. Outside of work, Kendra is an outdoor enthusiast who also enjoys reading, playing beach volleyball, and coaching.