By Rachel D'Souza-Siebert, CCF Global Council Member
Community-Centric Fundraising (CCF) is a movement founded by fundraising professionals — but its success will not be realized if we do not cast a wider net to others impacted by the ineffective and inequitable realities of the nonprofit sector.
In the summer of 2020, I nervously DM'd Vu Le on Twitter after reading his Nonprofit AF blog post on the launch of the Community-Centric Fundraising movement. The principles of Community-Centric Fundraising were already dear to my heart and integrated into my fundraising practice because of his 2017 piece (along with a number of other thought leadership pieces authored by people of color that year). Since 2017, my firm, Gladiator Consulting, has worked to identify the ways in which our sector's inequitable realities impact our clients. Vu welcomed me to the movement with open arms.
And two years later — TWO YEARS LATER — it is incredible to see how the movement has grown and the possibilities that lie ahead.
On the Season 4 premiere of the Ethical Rainmaker podcast, I shared my reflections with host Michelle Muri and guest Henry A.J. Ramos. We could have spoken for hours. As always, the content shared on the Ethical Rainmaker always leaves me both inspired and with a new level of interrogation for how to live into the values of this movement.
Community-Centric Fundraising (CCF) is a movement founded by fundraising professionals — but its success will not be realized if we do not cast a wider net to others impacted by the ineffective and inequitable realities of the nonprofit sector. As Vu shares in the launch announcement,
I know it is so much easier to keep doing what we have been taught, what we know works to bring in as much funding to our organization as possible. And that is to base everything we do on the comfort of white donors, who hold the most wealth. It is much harder to convince donors, and ourselves, to confront difficult truths about historical atrocities like colonization and slavery, wealth disparities, unearned privileges, the harm caused by capitalism, and the process toward reparation. It is riskier. We may lose funding. We may lose donors. But if our sector is going to fulfill its promise, we must fundraise in a way that does not uphold white moderation and white supremacy.
Oof. Do you feel this call to action in your core? I did and still do, day in and day out. Being a part of the CCF movement has created a new, safe space for me: a brown girl navigating the very very white world of philanthropy and nonprofits. It has also allowed me to interrogate the ways in which I have internalized racism and patriarchy and have upheld a system that does not serve me, nonprofit missions, or the community. I have discovered new friends, funders, and colleagues who share CCF values, and together, we are on a journey to change our sector. Ultimately, it cannot just be nonprofit staff or practitioners alone who advance this change.
I can think of many times in my early fundraising career where I stumbled in donor relationships because I was scared that, if I was honest, that
I would offend or upset the donor and,
I would risk their contribution and put my organization's work in jeopardy.
That is a lot of pressure for any fundraiser in any organization. But, if we believe a movement that doesn't cast a wide net is often certain to fail, how do we bring more partners along – and specifically, how do we bring our donors along on this journey? Through Gladiator Consulting and our work with institutional clients, I have found that some donors desperately want to be a part of the conversations; they want to learn, be challenged, and ultimately do better by our community.
You know your supporters better than I do — but here's a sequence I've found useful for welcoming donors to the movement.
Invite
You could have one-on-one conversations, invite a small group of donors to a conversation, or post an open call in your newsletter or social media platforms and allow donors to opt-in. Regardless of how you choose to start, you must open the door. Be honest about what you are looking for (and, what you're not).
Inform
You've gathered your focus group (or whatever you choose to call them). It's time to be authentic, audacious, and honest. Set a standard for the conversation. This is not a space for harmful words or for tolerating racist or sexist remarks and behavior. You could share prework in the form of reading an article or watching a video. Offer something that will allow participants to come to this conversation with a shared foundation. This could even be a CCF Hub article or Nonprofit AF blog.
Listen
Let them respond – and work to hear what they ARE saying and what they are NOT saying. How do your donors experience the nonprofit sector? What about privilege? What do they know about equity and justice? Where do they have opportunities to reflect and learn? It might be helpful to have a board member or staff peer sit in with you.
Co-Create
What opportunities have revealed themselves? Are your donors willing to be in a different kind of relationship with you and your organization? How does that look and feel? What feels uncertain? How will you discuss conflict as you navigate change? What do you need from each other to feel safe in a relationship with more equitable power dynamics?
Gratitude + Ask
Thank your donors for sharing their time and thoughts. And then, be clear about what you need to continue this change work – do you need more time? Do you need donors to learn in other spaces? Do you want to change the way they give? Communicate the short-term steps and the long-term goals early and often.
Here's the thing: some donors won't share our values. Some may move their resources to other organizations or causes. But, I have to ask: if this is the case, were you actually in a transformational relationship with these folx? Were they the right partners to support your mission and vision? Probably not, and we have to do a better job of releasing those donors who do not best serve our work. I believe when we are intentional about bringing everyone along, we will realize the change we seek in our sector.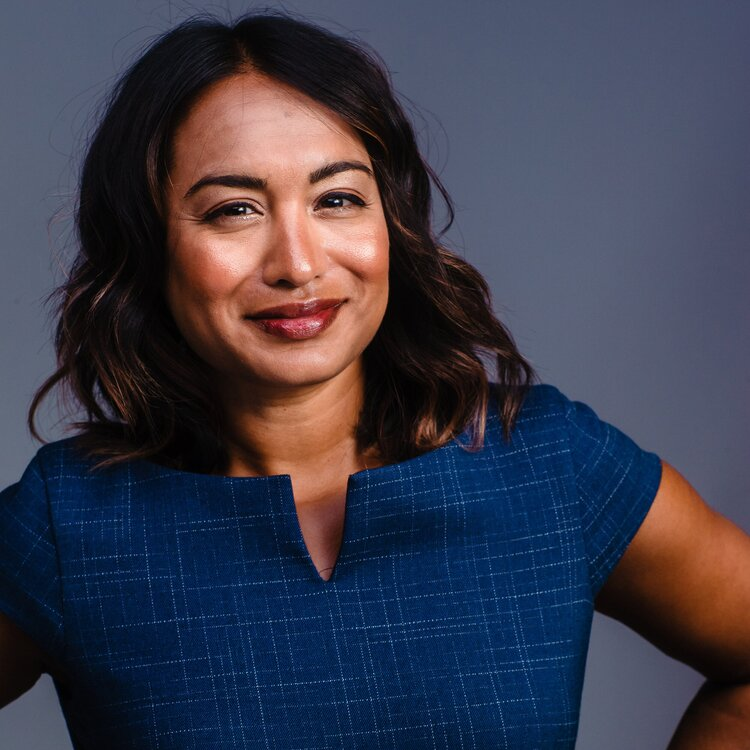 Rachel D'Souza-Siebert
Rachel D'Souza-Siebert (she/her) is the Founder and Chief Purpose Officer of Gladiator Consulting in St. Louis, Missouri. Her identity as a justice seeker and community connector started in the home of her immigrant parents and was cemented during her experience at the National Conference on Community & Justice's (NCCJ) Anytown Youth Leadership Institute which Rachel attended when she was just 17.
Upon obtaining a master's degree in Public Policy Administration from the University of Missouri-St. Louis, Rachel left her position in for-profit retail leadership to join the nonprofit sector. In her early nonprofit roles, Rachel developed both a deep appreciation for and a critique of philanthropy and resource development. In 2015, she founded Gladiator Consulting, a boutique consultancy with a holistic and community-centric approach to nonprofit organizational development + capacity building.
Gladiator Consulting's philosophy combines Rachel's experience in resource development and organizational culture with her deep personal commitment to centering community, seeking justice, and creating belonging for those who have been disenfranchised or targeted by institutions, systems and policy rooted in white supremacy and patriarchy. Rachel models collaboration and learning from an abundance mindset, and insists on being transformational in her partnerships with clients, funders, and anyone else that crosses Gladiator's path. She is currently pursuing a Master's degree in Legal Studies at the Washington University School of Law.
In 2020, the St. Louis Business Journal honored Rachel with their Diverse Business Leader Award. She currently sits on the Board of the Association of Fundraising Professionals St. Louis, the c4 board of LeadMO, and the Community Advisory Board of Nine Network. As a founding member of the Community-Centric Fundraising Speakers Bureau and an inaugural member of the CCF Global Council, Rachel has found joy in connecting with purpose-driven fundraisers across the country. In 2021, Rachel's perspective on systems change in resource development was featured in the Blackbaud Institute's npExperts publication, The Great Reset. Rachel enjoys cooking and spending time with her two children who are 11 + 7 years old. As a postpartum SCAD heart attack survivor, she keeps her heart healthy with daily Peloton workouts and encourages all women to lean into "community-care."
Tip Rachel — PayPal: rachel.d.siebert@gmail.com; Venmo: @RD-Siebert0620; CashApp: $GladiatorRDS