By Clara Lind, Director of Coaching at RaiseMN
Since fundraising is almost entirely built on relationships, what can we learn about relationship building from How to Build a Sex Room? And what would it look like to apply these lessons to fundraising?
If you're like me, you are an absolute sucker for a well-programmed algorithm. I'm continually grateful for and fearful of the accuracy with which Netflix, Hulu, and HBO predict my next binge-able show. The algorithm knows as much about me as many friends and coworkers, and it knows how ferociously I will watch the entire season of nearly any reality TV show. The algorithm knows what I want to watch before I do, whether it's my biannual re-watching of every Jane Austen movie adaptation or my unabashed desire to watch all seasons of Survivor. So when Netflix suggested I take a look at a new home makeover show, I was intrigued. This newest bing-able show is How to Build a Sex Room.
How to Build a Sex Room is an HGTV-esque home makeover show, but there's one distinct twist: It features an interior designer name Melanie Rose who has built her career helping couples design a space to explore their fantasies and desires together. For some couples, this means a space that feels like a relaxing getaway from the mundane tasks of everyday life. Other couples desire a space to explore the vast world of kink together. And in one instance, Melanie was recruited to design a space where a seven-person polyamorous family can spread out, relax, and enjoy a cuddly movie night together.
While the premise of the show was just saucy enough to get my attention, I was anticipating that I'd watch a few episodes and move on to something more dramatic—after all, this was around the time that the newest season of Love Island UK was dropping. But I kept coming back. And I realized that I didn't continue to watch each episode for the exploration of kink or smut, but because I was in awe of the conversations that couples were able to have and how thoughtful each couple was.
I realized that How to Build a Sex Room was a show built on something entirely different than the world of kink or interior design; it was a show about communication, boundaries, and trust. Which got me thinking. The couples and families featured in the show had relationships that many of us strive to have in our lives, and I began to wonder: Since fundraising is almost entirely built on relationships, what can we learn about relationship building from How to Build a Sex Room? And what would it look like to apply these lessons to fundraising?
Six things How to Build a Sex Room can teach us about fundraising
Bringing an intersectional lens to the way we fundraise is the only way that our fundraising practices will be able to be rooted in equity and social justice.
Consent, consent, consent. Several couples in the show are relatively new to the world of kink. Melanie and each partner continually ask, "Are you into this?" In one scene, we see a couple visit a BDSM mistress to see if they might want to explore a dominant/submissive relationship. Melanie explains that in the world of BDSM, the individuals lay out a scene in advance and give clear, verbal consent before any activity begins. For that reason, safe words are established and allow any party to withdraw consent at any point. This reminds me so much of the concept of permission-based asking that we incorporate with donors. By asking for a donor's consent (for example: "Is it okay in our next meeting to ask you for a gift?"), we're able to truly build the relationship at the speed of trust.

Physical space when gathering has a huge impact. As a Priya Parker fangirl, this is a concept I have been familiar with since reading The Art of Gathering, but How to Build a Sex Room continues to build on this concept. Setting an appropriate venue for a convening sets the tone for how people come together. In the show, we see every couple or family set the tone by designing the space of their sex room by communicating exactly what they want to get out of the space and how they want to incorporate it into their relationship. This makes me think of the many fundraising events, donor meetings, and board gatherings where a location is typically set by default due to: convenience, price, or "that's where we've always held them." What if we took time to be intentional about the spaces where we gather? How might we be excluding people based on an event venue—whether through lack of accessibility or public transit, or through feelings of discomfort? Answering these questions can help us imagine the appropriate venue that sets the tone for the authentic conversations we need to have with our donors.

It's important to challenge assumptions that we bring into this work. A key part of the show is Melanie spending time with each couple to talk about their favorite toys or props they may have used in the past—flogs, feathers, handcuffs, etc. At one point, Melanie worked with Raj and Ryan, who are both Black. Melanie pulled handcuffs out with a smirk, as she had done with every other couple. With an uncomfortable laugh, Ryan clearly said, "I'm fine with the blindfolds and stuff. But I don't know if you can get a Black man to like handcuffs." It was a lighthearted moment during the show, but it challenged Melanie and the audience to grapple with our assumptions about what people find sexy. It brought an intersectional lens into a conversation around intimacy.

Bringing an intersectional lens to the way we fundraise is the only way that our fundraising practices will be able to be rooted in equity and social justice. In my own work, I've taken time to watch Jim Crow of the North, a documentary outlining racial housing covenants throughout Minnesota and talking with donors about the role that racism has (and continues to have) in current housing disparities. This could also look like introducing the Board and colleagues to the CCF Content Hub, which shares perspectives of fundraisers from all backgrounds to challenge the traditional ways fundraising is done.
Clear communication. At the start of meeting each new family, Melanie asks the same question: "What do you want to get out of your sex room?" So much of typical fundraising work is making assumptions of what donors want—whether it's regular meetings or face time with the executive director—without ample time to build relationships and ask what donors themselves want. The exception that I've seen to this is the field of major gifts, where gift officers are given time and space to ensure they're building relationships slowly. However, this time is a luxury that many annual fund or mid-level giving officers (those of us who have large portfolios) simply don't have.

My meetings with donors (and colleagues, for that matter) have been improved by beginning each meeting with one question: "What do you want to get out of our time together today?" I've found that it forces me to set aside unspoken expectations and allows the donor to set the pace of our relationship.

Difficult or uncomfortable conversations. While it's clear that some of the families featured on the show have had many years of exploration and can name their turn-ons and turn-offs, some of the couples have not had opportunities to explore the world of kink, toys, or props. Like in the show, funders and donors fall on a wide array of awareness around social issues and intersectionality. I've worked in the nonprofit housing sector for several years, and many donors are still unaware of the deep roots of racism in the housing sector and how that contributes to the reality we see today. The intersectional identities in nonprofit work are nearly endless. If we, as relationship builders, are able to have honest conversations around racism, classism, sexism, and how queer folks have been under-resourced (and largely shut out of decision-making processes), we'll be able to build more authentic relationships.

The importance of training and consistency in honest conversations. Melanie explained props, toys, consent, and intimacy to each couple on the show. Our show's host also brought in professionals who were well-trained in the kink community to demonstrate practices she was unfamiliar with. She has had years of experience guiding conversations to ensure that all participants feel safe and respected. Much like Melanie's arsenal of kink professionals, we are our sector's relationship professionals—it's our role to lead transformative conversations and set boundaries with stakeholders. It's not always going to be easy. Suggesting a new venue for your annual fundraiser to your Executive Director may be difficult. Asking a donor what they want out of your relationship together may be met with a blank stare and a "Oh, I'm not sure. I haven't really thought about it." But the only way we get better at building relationships is to practice, be consistent, and to continue learning.
If binging all eight episodes of How to Build a Sex Room has taught me anything, it's that a sex room isn't just about sex—just like philanthropy isn't just about money. It takes enthusiastic consent, thoughtfulness, communication, consistency, honesty, and a commitment to learning together to build a strong foundation for an authentic relationship with donors. Next time you're in need of a little inspiration for your own fundraising practices, try something new. Who knows, the algorithm might know exactly what you need—and that inspiration can be found in unlikely places.
---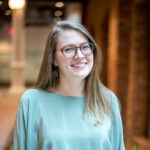 Clara Lind (she/her) has been in fundraising since 2014 in various capacities—from grassroots canvasser to Director of Development and is currently the Director of Coaching at RaiseMN. Clara approaches philanthropy from a human-first approach and was drawn to this field because of the immense potential to imagine a better future for community. She enjoys facilitating conversations around wealth, money, power, and trust, and hopes to deconstruct traditional narratives of what successful fundraising looks like. She aims to center equity, sustainability, justice, and care for communities in her work coaching nonprofits and in her private consulting firm. You can follow Clara on Twitter and Instagram at @clarabethlind or find her on LinkedIn.