"A society must assume that it is stable, but the artist must know, and he must let us know, that there is nothing stable under heaven." – James Baldwin
What a heavy burden it can be, the role of an artist.
Before I continue writing, let's clarify the definition of artistry, lest you be led astray. For the sake of this article, we are referring to aesthetes. This is for those of you who eat, sleep, and breath artistry. If you have treble notes leaking out of your pores and you spend inordinate amounts of time reading the liner notes to your favorite album, this is for you. If your favorite parts of a movie include an actor's range or the score of the film, this is for you. If you enjoy music in a way that borders on inappropriate, this is for you.
Have you ever wondered what it is that makes art so powerful?
There's a strange alchemy that takes place whenever the impact of a singer's vibrato or the drama of a poet's syntax is made on the listener. One obvious part of this relationship is the artist's talent. The other part is equally important, but often overlooked: the listener themselves.
Each of us who love and believe in the arts rarely show up empty-handed. We come with our hurt, with our trauma, with our excitement and joy. We bring all that we've experienced, all we know, and all we believe in. We bring communities aching for their stories to be told. We bring the tales of our families. We bring our heartbreak, and not just for former lovers — we turn up the volume in hopes to turn down the pain of the world. This is not a one-sided relationship, but a dialogue that is journeyed and burdensome.
Here is the question that I pose: How do we continue to shine a light on art forms like dance or theater being used in ways beyond entertainment?
Consider each social movement that has taken place in the United States over the last century. Starting with the Harlem Renaissance, when former enslaved people departed the South and ventured North in hopes of opportunity and some freaking room to breathe. Not only did they manage to bring new life into cities like Detroit, Chicago, and St. Louis, they rendered a new description on literature, theater, dance, and music. Artists like Countee Cullen, Anne Spencer, Bessie Smith, and Alain Locke, along with many others, were a part of the New Negro Movement. This wasn't just academia, and this definitely was not entertainment. This was how we got over.
When Audre Lorde took pen to pad, it was not for the status quo. Known as a self-described "Black, lesbian, mother, warrior, poet," many of us had never seen intersectionality and a strengthened identity via prose before. When Joan Baez picked up her ukulele and guitar to sing out loud, it was for civil rights and it was calling for a change to come.
Just like Sam Cooke did.
Just like August Wilson did.
Just like Jean Michel Basquiat did.
The arts, specifically the performing arts, have always been a part of speaking truth to power. Something about bringing one's creative self to near ubiquity by sharing it with others is powerful. This trend of suggesting cultural and community change creatively and physically and kinetically and audibly with whoever found themselves within the blast radius echoes through history like a thoroughly vibrant bloodline.
This is how we got over. This is how we get over.
Here is the question that I pose: How do we continue to shine a light on art forms like dance or theater being used in ways beyond entertainment?
This question led me to starting my own nonprofit organization in 2013. Of course, I didn't know I would be starting a nonprofit — I was just looking for a way to instigate community and communicate compassion. Yet, at the same time, I knew that it could become something that spoke to our culture's need for a conscience. We need the arts to do more than entertain us. It wasn't something that could be taken for granted or expected to come through the traditional pipeline, not when two-thirds of public school teachers believe the arts are getting steamrolled in priority by English and math (my paraphrase, mind you).
There are many organizations that are taking matters into their own hands. From funders and institutions to everyday citizens and artists who believe in assonance and arpeggios, we are that alchemy. The nonprofit community has the opportunity, especially in days like these, to become the mixing room where this amazing alchemy for aesthetes takes place. Driven by nothing more than a desire to change a life, change a community, change the world, we can be the ones to develop artists who give a damn, and we can be the ones who show artists that this kind of work is needed. This can work.
This is how we get over.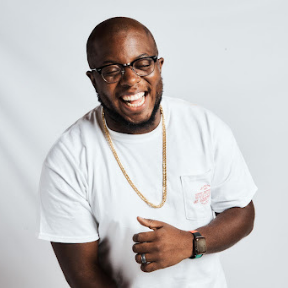 Nicholas Steven George
Nicholas Steven George (he/him) is the founding executive director of The Listening, Inc, an organization in Central Virginia, with the mission to engage, change and save lives with the performing arts through community engagement and youth programming. Developing his creative and performance style of writing since his teenage years, Nick is continuously growing as a poet, author, public speaker and facilitator. With a strong background in performance poetry (also referred to as "spoken word poetry"), Nick pulls from his own life experiences and personal challenges as inspiration for his work. Through advocating for mental health and recognizing the utility of the performing arts, Nicholas uses his voice and skills to ignite social impact, challenge stigmas, and develop deep community. When he's not living vicariously through Amanda Gorman or fantasizing about the Marvel Cinematic Universe, he's living his best Black life with his wife and three children. You can see more of Nick's work on his website, follow Nick on Instagram at @nickgeorgethepoet, and tip him for his work via Cash App, $nsteveng.