But why is shifting your mindset — to acknowledge and embrace yourself as a leader — so hard to do?
You don't have to hold a C-level title to be a leader. You already are one — especially if you are chasing ridiculously long to-do lists, especially if your day is littered with activities ranging from people management to overseeing operations to technology wrangling to sitting in on check-ins and other meetings — especially when you're doing all of this so that your project or program stays on course.      
But why is shifting your mindset — to acknowledge and embrace yourself as a leader — so hard to do?      
For a long time, I partly blamed it on imposter syndrome. Confession: I know imposter syndrome well as a BIPOC woman. I have spent hours taking classes to try to fill in my self-perceived professional 'gaps.' I have told myself, "If only I know….", "if only I look or talk a bit like…", "if only I accomplish…" — and the list goes on. 
I have also blamed my struggle of "trying to fit in" versus "trying to stand out" on being an immigrant in a new environment. And over time, I realized that the outcome of chasing my list of professional development activities was not a feeling of accomplishment, but rather the feelings of impatience and exhaustion. 
With that realization (and the pandemic giving us more reasons to prioritize mental health), I am now actively transitioning from a learning-to-fill-gaps mode to a more celebratory approach of who I am in my journey. 
Perhaps it was that same celebratory approach that empowered me to leave two perfect-on-paper jobs just within the last nine months! In actuality, these jobs exhausted me to my core and did not allow me to be my usual me (which is a person who happily wants to learn every bit of her job and go beyond the job description when she can). 
Taking inspiration from many around me, I embarked upon the journey of independent consulting — leading my entrepreneurship with emotional intelligence, empathy, and a sense of equity. And every day, I am learning just why shifting our mindset — to acknowledge and embrace ourselves as leaders — is so hard to do.      
I want to share four unhealthy expectations, habits, and 'beliefs' we internalize (especially now during the pandemic) — that have somehow deeply embedded themselves into our brains, so much that they've become part of our lives. These four unhealthy expectations are perhaps why we don't consistently feel like leaders. 
While you may not have faced all of these expectations in the same way I have, I do think that semblances of these do certainly switch on our self-judgment button.
Unhealthy expectation #1: We must have big monetary goals. If we don't (and if we don't hit them), then our work is more a hobby than a job.          
This type of expectation is common— especially when we are working as consultants, entrepreneurs, fundraisers, executives, or in any other working role that contains responsibility over financial goals. 
When I started consulting, my YouTube and Facebook homepages were full of coaching ads, with business coaches claiming that I can make multiple six-figure deals just by working with them. 
Although that sounded lucrative (I mean, can you imagine what else I could do if I earned multiple six-figure deals just in a few months!), it also profoundly lacked sustainability. Money cannot be the only (or the biggest) criteria of success. Those criteria should also include your mental health and overall happiness. 
Building my consulting from a place of celebrating who I am and what I bring to the table for my clients, regardless of the deals and their values, is my version of sustainability. So, I consciously removed those advertisements from all my social media accounts, one by one — to not be constantly reminded of someone else's definition of success. 
The world around us may repeatedly push us to place money as the highest weighted metric in the formula of success — the six-digit dollar value of consulting deals, fundraising gifts, or revenue amount. But don't fall for that. You get to choose the drivers of your success — and it should begin with your balanced mental health and continuous affirmation of yourself. And, as you aim for that success and sustainability, know that you are a leader.     
Unhealthy expectation #2: Mental health isn't that important to account for. Neither is the baggage the pandemic is leaving on us. What continues to matter are the unrealistic annual goals.     
I can speak on behalf of my own mental health — it's acting out. I have a lot of work cut out for myself in the coming months, to get back to my healthier self. 
For one, I live in a country that is far from my home country (India). I've witnessed multiple travel bans that continue to be extended. And I know I'm not the only one facing this — many of you also are. We all have our reasons for why this has affected our mental health. We don't yet know how deeply we're being impacted. And, in our desperation to go back to some shape or form of old-normal, the chances are that we may miss signs or indicators from our mind and body, urging us to pause and give ourselves time to heal. 
And as the internal part of us continues to deal with all this, our work-self still feels like it needs us to be on the top of our annual goals.           
And when we cannot catch up on those goals, we self-judge, feel unaccomplished, and get even farther away from celebrating the sheer courage it takes to show up on certain days during this pandemic. 
We need to be flexible with our annual goals. Organizations must factor in some space for unforeseen vulnerabilities. We need much more than an occasional Friday off before a weekend. We need time to allow our whole self to breathe. Asking organizations to revise annual goals with mindful updates does not make you look incompetent. It makes you a leader.
Unhealthy expectation #3: Tiredness is weakness. In spite of a pandemic, we shouldn't feel burned out or out of control, ever.
During the past 12 months, how tired have you been?           
If you're anything like me, those back-to-back Zoom calls sure don't help, do they? My fatigue has included:
Sleep issues

     

Forgetting sentences when they're already halfway out of my mouth

     

Less time to collect my thoughts, less time to share any helpful perspective

   

 
And let's not even go into my exercise regime.
This constant feeling of being burned out only makes us feel more and more entrenched in a never-ending marathon race and, sooner or later, we'll start questioning our abilities. (Have you seen that meme, "Thinking gives me stress, so I stopped doing that"? That's how I feel sometimes.) 
Well, you are not alone in feeling out of control. Remember to acknowledge all your emotions —      the good, bad, and strange. We cannot be kind to ourselves unless we accept the whole of us. In the past few months, as I started to recognize my triggers of panic and anxiety, I began to understand myself better. Knowing who you are empowers you. And, yes, you are still a leader as you navigate through all the uncertainties around you.
Unhealthy expectation #4: Always chase that perfect on-paper opportunity, to the point where we compare everything to it. 
Admit it — we all have certain job regrets. So many of us feel like we have missed that one perfect-on-paper job from the past — a job that was the right combination of responsibilities and skills, one that was in a good location, one that was an opportunity to grow. 
I remember my perfect-on-paper job. I ended up leaving that job because I couldn't keep putting up with the unsustainable work practices it demanded. (And I must admit that after I moved out of that job, I still missed it — I missed having a perfect-on-paper job description in my portfolio.)     
I eventually realized that I was lamenting over a perfect-only-on-paper job way more than celebrating and prioritizing myself. 
Learn from me and watch out for any such behavioral patterns or signs in yourself — if you find such patterns in you, chances are it's likely you do not feel your best in your current role. Pause, reflect, and remind yourself of how you came to the place you are today and the challenges that have made you, you. Is the job truly a good fit? Leaving your job to prioritize yourself — yes, that especially makes you a leader.     
The thing is, juggling through multiple responsibilities to reach your goals, responding to the overly critical internal voice, consciously choosing a different or unconventional route of career growth, or redefining your specific vision of success — none of these things make us any less of a leader. Our paths to becoming a leader should be unique in their challenges and opportunities.
So, be the leader you are. All you have to do is celebrate your story unapologetically and allow yourself to build your path.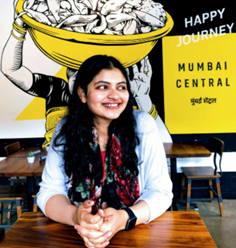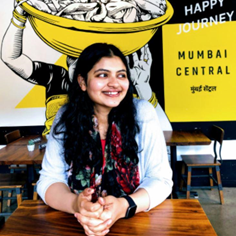 Meenakshi Das
Meenakshi (Meena) Das (she/her/hers) is a fundraising analytics consultant. She specializes in designing survey-based research tools and analyzing engagement. Meena appreciates spending her time outside work as a mentor to immigrants and as pro bono research advisor to small shops. Her two recent favorite projects are working on making data-based research tools more DEIA (Diversity, Equity, Inclusion, and Accessibility) compliant and designing the second season of her podcast "Being and Unbeing an Immigrant" where she wants to bring together the families of immigrants left behind in the home country. Connect with Meena on LinkedIn.