Just as the COVID-19 pandemic exacerbated racial and economic inequities in the U.S., it also highlighted longstanding failures in the arts.
As of December 2020, Americans for the Arts reported that 60% of white creative workers and 69% of Black, Indigenous, Arab, Asian, Hispanic, Latinx, Middle Eastern, and Pacific Islander creative workers in the United States had become unemployed. The numbers are even higher in New York where I live. The total revenue loss for creative workers in 2020 was an estimated $77.2 billion, with an average of $15,140 per person — and 55% of creative workers do not have any savings. 
Just as the COVID-19 pandemic exacerbated racial and economic inequities in the U.S., it also highlighted longstanding failures in the arts. The trickle-down system from institutions to artists isn't broken; it's rigged, especially for arts workers in marginalized communities. The safety net, where it exists at all, remains tattered and fragile at best.
Many artists have reached a breaking point with institutions. In January 2021, I remember reading Emily Johnson's open letter to the National Endowment for the Arts about her experience with Peak Performances at Montclair State University in New Jersey. Not only did she experience verbal abuse and white rage as an Indigenous woman, but she did not receive the $100,000 commission she was promised. 
"I don't think it's great that Peak Performances brags about paying artists while this artist — and every collaborator I would have employed — expected, and due to the exclusivity clause depended, for over a year, on receiving payment from Peak Performances," she wrote.
She also later added, "I want the NEA to consider new paths of funding that do not lead to nor encourage institutional power over artists." 
Montclair State University released a statement in defense of Jedediah Wheeler, Executive Director of the Office of Arts and Cultural Programming, which presents Peak Performances. They pointed to the COVID-19 pandemic and said, "Anyone who questions Mr. Wheeler's commitment to supporting and working with artists simply cannot be aware of his long track record, while at Montclair State University and before." 
If we're not here for our artists and workers, I would argue we shouldn't be here at all.
No matter how many times I read a statement like this, I'm still shocked that powerful arts administrators can (intentionally or unintentionally) ignore artists and miss the mark completely.
As leaders in our sector, we need to rise to the occasion — both during this emergency and on an ongoing basis. Arts and cultural organizations need to provide direct financial support to artists and cultural workers because we would not be here without them. We would have nothing to offer our communities without artists, administrators, production staff, custodians, educators, ushers, and guards. 
If we're not here for our artists and workers, I would argue we shouldn't be here at all. What would my job as an arts fundraiser mean without the people who make art happen? As Dance/NYC advocates, #ArtistsAreNecessaryWorkers.
At the Arts Worker Rally To Demand Equitable Financial Relief Now & As A Precedent For Systemic Change in Manhattan on May 8, 2021, following New York City Mayor Bill de Blasio's announcement of a flashy yet insufficient City Artist Corps, host Miz Jade urged, "Art workers are facing homelessness and food and housing insecurity, and there's no city or state emergency relief being offered. Art workers are essential workers … There's no justice in public money."
This is the premise of the Cultural Solidarity Fund (CSF), for which I'm part of the organizing group. The CSF raises donations from New York City arts and cultural organizations in order to provide $500 microgrants to individual artists and cultural workers with a consensus prioritization of Black, Indigenous, and People of Color (BIPOC), immigrant, disabled, Deaf, transgender, gender nonconforming, and nonbinary applicants. 
More than a relief fund, it is a labor of love. It is an exercise in radical transparency and trust-based philanthropy. It is the result of action by a coalition of leaders who imagine an arts and culture ecosystem beyond the 501(c)(3) nonprofit model. 
Led by Ximena Garnica of LEIMAY and Randi Berry of The Indie Theater Fund and Indie Space, more than 80 arts and cultural organizations and 120 individuals have come together to build the CSF, and we are continuing to actively fundraise.
In a single week at the beginning of March 2021, an open online process garnered 2,722 eligible applications. 
In designing the one-page form for applicants, we decided we would intentionally accommodate people without easy internet access or facility, those who primarily communicate in a language other than English, and disabled applicants. We took pains to ensure that no one would be asked to relive trauma by proving their need. No one would be judged based on the quality of their artistry. No one would spend more than 15 minutes applying for funds. 
Grounding our fundraising in our values is easier said than done. Taking action takes work.
Sometimes that made our job difficult when it came to reviewing hundreds of sparse applications in a matter of days, but really our job was simple: to trust the applicants. Did they list a relevant organization they've worked with? Or link to their artistic social media? Write one sentence describing their work with a cultural institution? 
Any of those was sufficient for eligibility. 
I struggled with that at first, wanting to Google every musician and actor to make sure they were really working in the nonprofit or community-based sector here in New York City, but the team pushed me, and I'm grateful for it. If someone is taking time to apply for $500, let's trust they need it. 
About 56% of the eligible applicants expressed dire need for food and housing funds, far outpacing the funds available, and 81% qualified as a priority group. To support all, we needed to raise a total of $1.4 million.
A month after receiving applications, we invited philanthropic leaders to a CSF working group meeting. We shared our experiences and ideas in rethinking generosity and care in response to this crisis and in building just and sustainable resources for the future. 
As we brainstormed together, our conversation eroded the grantor/grantee power dynamic in a way I had never experienced before. The CSF working group practices "showing up with our full selves as individuals, and not just as representatives of our organizations," one of several community agreements adapted from the Mosaic Network and Fund. Everyone on that Zoom call honored this commitment, and it truly made a difference. 
Four days later, one guest, Executive Director Laura Aden Packer of the Howard Gilman Foundation, shared that the CSF would be awarded a $100,000 challenge grant. Her expediency is a credit to Laura and her Board's keen awareness of issues in our sector. It is also a credit to the power of the vision, passion, and openness of Ximena and Randi, backed by our full working group. 
A few weeks later, we received fantastic news from another guest, Emil Kang, Program Director for the Arts and Culture program at The Andrew W. Mellon Foundation: CSF was invited to apply for $100,000, no match required. (Then, as they were reviewing our application, they decided to double the grant to $200,000!) 
Sometimes I take a moment to sit with huge numbers like this. It's nowhere near enough for the artists and cultural workers who applied, but it's also more money than I can imagine holding.
While we are not letting go of the goal for our own organizations to directly support our community of artists and cultural workers, it was significant for the Gilman and Mellon Foundations to make large grants and to encourage both peers in philanthropy and nonprofits to join us. We have raised over $500,000 and distributed 978 microgrants at the time of writing. Our next goal is to fund 50% of the original 2,772 applicants. (And I wouldn't be doing my job if I didn't invite you to join us by making a donation to sponsor an artist or cultural worker!)
I want to close with a reflection. I first heard about Ximena's idea for the Cultural Solidarity Fund in December 2020. At the time, as a stressed, early-career development manager, I wasn't sure what to do. What about our own fundraising for Hi-ARTS, especially at the end of the year? What about my endless to-do list? Do I really have time for this? What will my boss say? 
Social justice and anti-racism have been implicit in Hi-ARTS' mission for over two decades. Yet, we are a 501(c)(3), one that is dependent on standard (read: white supremacist) fundraising practices. Grounding our fundraising in our values is easier said than done. Taking action takes work. Our executive director was on board with making a financial contribution, although I got the sense that it shouldn't become a pattern — we don't have extra dollars to spend, so let's not make this a regular thing. 
But what if it were? Moving out of a scarcity mindset and into a place of abundance, what if we rethought our role in community and fundraising through a lens of radical generosity?
So here is my invitation: We can all be as imaginative, bold, and tireless as Ximena Garnica so that her voice isn't the only one in the room. As fundraisers and leaders of nonprofits, especially those of us who are salaried, we can share in that labor to make real change. Let's work together collectively to fight inequity and care for each other. And please, white leaders, that includes you, too.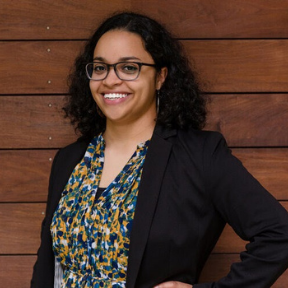 Hanna Stubblefield-Tave
Hanna Stubblefield-Tave (she/her) is a mixed race Black woman who is interested in applying a racial equity lens to support artists and the organizations that advance them. She is currently the development manager of Hi-ARTS in East Harlem and previously worked as the manager of development and grantmaking at Dance/NYC. She is grateful to have dance in her life, a snuggly cat at home, and a tattoo that reminds her daily of sankofa. Connect with her on Instagram @hannadance94.
Hanna's photo was taken by Jo Chiang.