By Leah Rapley,  who's got fake people showin' fake love to her straight up to her face 
First, I should define what I mean when I say the rug got pulled out from under us. It means witnessing organizations publicly take a stance against systemic racism — and then, in practice, they do not do any of the things they promised in their public statement.
Cute commitments wrapped in bows ain't cutting it. The thing that we, as Black people traumatized by shallow promises of systemic change, feared happened.
It turned out that the bold statements over the past year from organizations promising to become antiracist and promising to address white supremacy were just fleeting campaign slogans aimed at not looking like the bad guy. 
At least, this has been true with my experience in the philanthropic space. 
The past year has been hell — to say the least — especially for me as a new Black fundraising professional. In fundraising, you already get a very up-close-and-personal peek into what wealth looks like in this country — and often not in a good way (at least not in a good way for my Black self) — but  grappling with the new exposure to blatant and unapologetic wealth disparities wasn't even all of it. 
In 2020, in my new job, I also faced all of these newly 'woke' organizations making statements about wanting to 'right past wrongs' when it comes to racial equity. 
Initially, it all felt exciting. Initially, it was statement after statement after statement, then it was throwing dollars, throwing dollars, throwing dollars. For a while, it felt like I was sitting at a jackpot machine at Dave & Busters, watching all the tickets shoot out, anticipating what it would be like to cash it all in for a massive prize at checkout.  
But in the back of my mind, I kept my side-eye on standby, ready to hit a quick one just in case the rug got pulled out from under. I still desperately hoped it (insert Biggie's voice) wasn't all a dream. 
Well, yep. You guessed it. It wasn't too long before my side-eye needed to come out strong. 
Something ain't right when we talkin'
So, why is real antiracism work not done in practice?
First, I should define what I mean when I say the  rug got pulled out from under us. 
It means witnessing organizations publicly take a stance against systemic racism — and then, in practice, they do not do any of the things they promised in their public statement. 
The classic example of this is when Starbucks released their statement committing to end systemic racism and then a few weeks later instituted a new dress code policy that forbade their employees from wearing any pro Black Lives Matter paraphernalia. 
Before they were called out, they, like many others, published performative remarks vowing to end racial justice (or pledging dollars to give to BIPOC-led orgs) without an accompanying commitment that addressed the structural racism within their institutions (i.e. policies and procedures that uphold white supremacy culture in hiring practices, their leadership [board included], and other representation). 
Hold on, don't get too fired up about performative behaviors in the for-profit space — because it's no different in philanthropy. 
There are foundations that have released public statements about their commitment to standing up for racial equity and to work harder against unjust treatment, that still have all white boards and leadership teams, that continue to implement arduous grantmaking practices, that still prescribe to white-centric metrics. There are still foundations that avoid conversations about race altogether, despite expressing wanting to support programs where race is fundamental, despite expressing wanting to leverage their power to redirect their organization's strategic focuses. 
All of these behaviors fall under the category of 'faux woke' organizations — organizations trying on antiracism for size but always secretly planning to return the outfit before hitting the end of the 30-day return policy (side-eye). 
So, why is real antiracism work not done in practice?
My assessment is that the work is not done in practice because:
These organizations were never comfortable about topics centered around race in the first place. They only hopped on the bandwagon because 'all the cool people were doing it.' These types of people and organizations typically display this discomfort by swerving every question or topic about race like it's a middle school dodgeball game. They respond with unclear statements about how they are still determining the 'best approach' (or they switch topics all together). 

They feel guilt and shame, and they can't handle it. These types of people glorify the language of unity

only,

but they refuse to converse directly about issues centered around race. They often request that topics related to race be changed because it makes their team uncomfortable. These are the same people that will tell you to play it safe when it comes to racial equity topics so that you can win the money (major side-eye). 
As I continue to confidently (and also kind of reluctantly) enter check-ins and cultivation conversations with donors asking direct questions about their internal antiracist work and equitable grantmaking practices, I have to admit that my once gleaming hope for power shifts and systemic change in the philanthropic space has shattered a little bit (or maybe should I say it got more than a little bit dinged up).
But, it was fake love.
I fell into the fundraising space because I love telling stories, and I love using my skills and talents to be a champion for my people. From my background in international development, I knew of the inequitable practices that exist when providing international aid to developing countries. I learned how the people most affected by inequalities are not invited to the table to decide how they should be supported, by how much they should be supported, and to what extent they should be supported. I know the detriment of this practice, especially when it does not consider the historical context or when it does not have an equity lens applied to the planning and implementation process. 
So I was thrilled to see that, in the United States, those with the money finally saw that it is time to place a mirror on themselves, to evaluate their contribution to systemic racism, historically and presently. I was even more ready to milly rock on any block when I knew this type of internal review (if done properly) could start a power shift that would impact how the wealthy people viewed their new roles in society (hello, reparations) and give up the power. 
But, it was fake love. 
As a Black fundraising professional who often interfaces with white gatekeepers who have a lot of access to money, my exchanges with faux woke organizations feel oppressive. It often feels like getting a carrot dangled in front of my face before it's snatched right back — to remind us BIPOCs of who still has the power and control. It often feels like these gatekeepers are running around communities of color, in circles, singing, "Nana nana boo boo you can't catch me." And it's okay for them to do that because there is no accountability. 
My hope is that the faux woke organizations will soon realize that they have some serious work to do …
However, as much as I would like to end this on a petty note and remain in my side-eye stance, I know taking such an approach — for me — would not result in longevity in this field. I was taught that if you do not like something, find a way to fix it and to boldly occupy spaces that historically were not meant for us. I am not giving up my seat just because I've received a few jabs. 
In fact, I feel more motivated to get real comfortable in the seat I am in, to push some seats down to make room for others, and to challenge all the hoarders of the seats. In other words, it's an infiltration. I feel hopeful because not all organizations are being fake. Some recognize the major power imbalance and how their funding practices have elements of white supremacy. I witnessed these foundations make massive shifts in their grant application processes and genuinely seek feedback to be better. 
My hope is that the faux woke organizations will soon realize that they have some serious work to do, and I hope that my questions in our meetings will spark some kind of man-in-the-mirror moment for them. But even if not, I know that I must continue to have the courage to dust my shoulders off, cling to true allies in this space, and keep collectively fighting the good fight.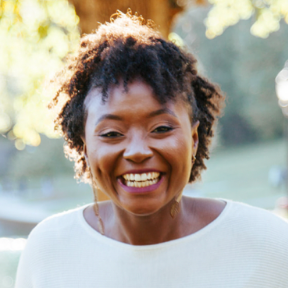 Leah Rapley
Leah Rapley (she/her) can be found throwing up the 'Wakanda forever' sign after submitting another solid grant proposal. As the director of development, her job is to finesse language and words to tell the story of her organization's vision. She uses her writing to bring about radical change and amplify the voices that have been silenced. Leah is now a Carolina girl but Beyonce's H-town vicious runs through her veins. She spends the majority of her days dotting her I's and crossing her Ts, ensuring that the fundraising strategy aligns with the vision. Outside of the office, she's reading Woke Baby for the thousandth time to her son, trying to recreate the movie Roll Bounce at the skating rink (read: tennis court), or working to become the female Henry Louis Gates, Jr. She loves all things BLACK. She loves her family. She loves her friends. She loves taking on new adventures. She can be reached via email or through her website, Threaded Histories.