Without my zine experience, I'm not sure I would have been as prepared for the world of nonprofit fundraising.
Zines are usually categorized as ephemera, something that exists only briefly or for a short period of time.
Zines are pronounced zeen, short for magazine, and are self-published, not widely distributed, and cost very little. As small and temporary as they initially seem, zines have actually been around for decades and can have the power to provide a voice to those who are not normally heard.
A glimpse into zine's beginnings
The history and origins of zines started in the 1930s and was bolstered by science fiction fans. Originally called Fanzines, a name that hearkened to the very people that created them, these tiny paper booklets allowed a whole group of people to express their love of science fiction without mainstream approval or need for 'legitimacy'. Zine production grew with the invention of printers and copiers which meant that they were accessible and cheap to produce.
The real zine boom happened in the 1970s within the LA, London, and New York punk scenes. Fueled by an absence of "real" voices that were glaringly missing from mainstream publications. Further bolstered by the alternative music scene, there was yet another uptick in zines during the 1990s, when Riot Grrrls were in their prime.
Today, zines are made in a variety of ways — photocopied, hand-drawn, or created completely digitally. Zines have popped up in so many ways because of the ease and simplicity of making them. They have also moved beyond music and art scenes. They have also crossed academic channels, where many colleges now have dedicated zine sections in their libraries and proper libguides, one of which I helped create for Arizona State University.
All of this is to say that I have years of experience making zines, talking about zines, and writing about zines. And I'm sure you're wondering what this all has to do with fundraising for a nonprofit.
A lot actually. Without my zine experience, I'm not sure I would have been as prepared for the world of nonprofit fundraising. Creating zines is one of the most fulfilling ways I have been able to express myself and share my writing without the struggles of 'getting published' in the traditional sense. As a woman of color and in a world where white people constantly control the narrative, it's especially freeing to have complete say in something.
My zine education begins
My introduction to zines started as a 90s child living in Southern California, during the heyday of Riot Grrrls and accessible printing options. I acutely remember purchasing a book about zines from my local thrift store. You may have seen it, with the cover containing a woman with burgundy hair, a leopard coat — holding several zines. This was my introduction to the world of zines, and I have never looked back.
The first-ever zine I created was about Kurt Cobain, a folded 2-pager that contained collages, fave lyrics, and a poem I had written. I distributed my zine freely to my high school classmates on Kurt's birthday, all the way back in 2001 as a freshman.
Given those glamorous beginnings, I continued to pursue my love and admiration for zines throughout the years. I was very fortunate to live in Southern California for the majority of my life, having access to resources and endless zine fairs. That community followed me when I moved to Arizona, where I found an ever-growing supply of like-minded zine makers who were more than willing to invite me into their world.
Carrying on with my zine love across state lines helped keep me connected to others as I grew older. That very type of connection led me to an internship while attending Arizona State University. The head of special collections needed an intern to help her with a zine collection that she wanted to start at ASU, based on existing literature and also from zines that had been recently collected or donated.
All of that culminated in one of my greatest achievements: the publication of a zine libguide that is still being used at Arizona State University to this day. I also still use the libguide today since it is always updated with current zine events and useful zine related information. It's an incredible melding of zines and academics that I used as a basis for my fledgling nonprofit career.
What do nonprofits have to do with all of this?
Now, I know that creating zines seems to be in contrast to nonprofit fundraising, but hear me out. Much like fundraising, when you create a zine you need the drive and know-how to complete your project. Then once it's complete, you then need to actually sell that idea and market your work.
Creating and maintaining relationships with potential stockists mirrors the relationships that need to be forged when obtaining nonprofit funding. Surprisingly, there are some cool similarities between the two such as creative writing, marketing your work and networking. For instance, when you create zines, it's a way to purposely opt out of the traditional white-led world of publishing. Zines are about disrupting the 'norm' and reaching people through unconventional means.
Similarly, when BIPOCs work within nonprofit fundraising, which is statistically white-led, our mere existence is already challenging the status quo.
Right now, while there are a lot of problems of inequity with the way nonprofits fundraise, I feel like we have a great opportunity to transform our work into something more equitable and inclusive. Applying the counterculture zine spirit to fundraising can lead to expansion beyond the old white standards of obtaining funding.
Social media has been an incredible tool for showcasing and amplifying artistic zine endeavors, and social media can also be used for fundraising by bypassing traditional means of outreach.
And I'm not just talking about slapping together a graphic and asking for money.
It's like, why do people want to buy my zine? Why do people want to donate to our organization? Zines are already unconventional in and of themselves so I've learned to utilize that unconventional modes of outreach like social media, which in turn has helped me so much in fundraising.
The typical approach to fundraising is handwritten notes, phone calls, letters of appeals and newsletters to reach potential donors. Zines taught me that establishing connections, showing passion for your work and making it accessible to large groups of people can actually pay off.
For instance, using social media in development work is a way to make an organization's work accessible to large groups. Through social media, we can show the faces behind the work, highlight allies, offer resources, display impact, create meaningful connections — and show folks from anywhere what their support would mean.
Zines also taught me to be community-centric. In the past and currently, I've highlighted and tried to amplify my love for other zines, not just my own, through my own social media accounts. I do this because I genuinely want these other zines to succeed, and I want people to know about them. There's a similar opportunity within the world of nonprofits, even though too often, we become overly focused on our own organizations and forget that there are so many others out there that may be doing similar work to us. But by applying those zine values to fundraising, I see how we can all visibly show our support to other organizations to help foster relationships with them instead of competing for the same resources.
Lastly, zines have taught me how to embrace writing as a form of healing. Creating and writing zines means putting yourself out there in a very vulnerable way and hoping that someone connects to that. Isn't that what we want to achieve with fundraising, to make those personal connections that will inspire people to give generously or simply empathize with the work that we do? Oftentimes, this means not asking directly for money but showing the humanity behind the organization. Weaving narratives and embracing your vulnerability — yes, even when you write a standard e-blast or newsletter — can go a long way towards a new form of openness with your organization's supporters.
That's what zines are all about. When someone wants to get their work out but everyone tells them no, we collectively found a way. In a similar way, when our small nonprofits need funding, we all just find a way to do it.
Also, little did I know that my years spent on zine-making would prove to be so fruitful in terms of communications around nonprofit fundraising. All of the hours I've spent sitting, writing, formatting, copying, laying out, and distributing zines are all activities I do in fundraising. We want our donors to connect with our words much in the same way we want our zines to connect with readers.
A bigger world is out there
Zines have also changed how I view the world. Zines have opened my eyes to ideas and things that I wouldn't have found in 'normal' bookstores. Zines have provided me and others like me, a community that resides outside of the mainstream. And because of that experience, when I first started in fundraising I knew there had to be others like me, even though I didn't see a lot of them. I sought a sense of community because I wanted to try and match what I got from my beloved zine community.
I'm so happy that there are more and more spaces that exist for us BIPOCs because we made it happen for ourselves. From zines humble beginnings as a way for science fiction fans to voice their love to growing into BIPOC-led distros, zines have proved to be so much more than some paper and staples.
Like, Brown Recluse Zine Distro is an extraordinary example of a QTBIPOC-led group who have disrupted zine culture. They embrace mutual aid and offer sliding scale pricing for BIPOC, even going so far as paying 50% of the cover price to non-Black POC creators and 100% to Black zine creators. They are also at a cross-section between being a nonprofit and working within the zine community. Further proving how zines and the nonprofit worlds can intersect and influence each other.
BTW, here are some more of my humble offering of zine makers and distros that are doing work that I greatly admire right now:
Julia Arredondo — an artist-entrepreneur that is taking zines to the next level by intersecting them with academia, brujería, and art.
Wasted Ink Zine Distro — a space for historically silenced voices that is run by a non-binary, queer multi-media artist in Phoenix, Ariz.
Long Arm Stapler — a podcast and online shop that focuses on queer zines.
So take a note from zines, if you can't succeed the usual way, make your own path and create work that you will be proud of.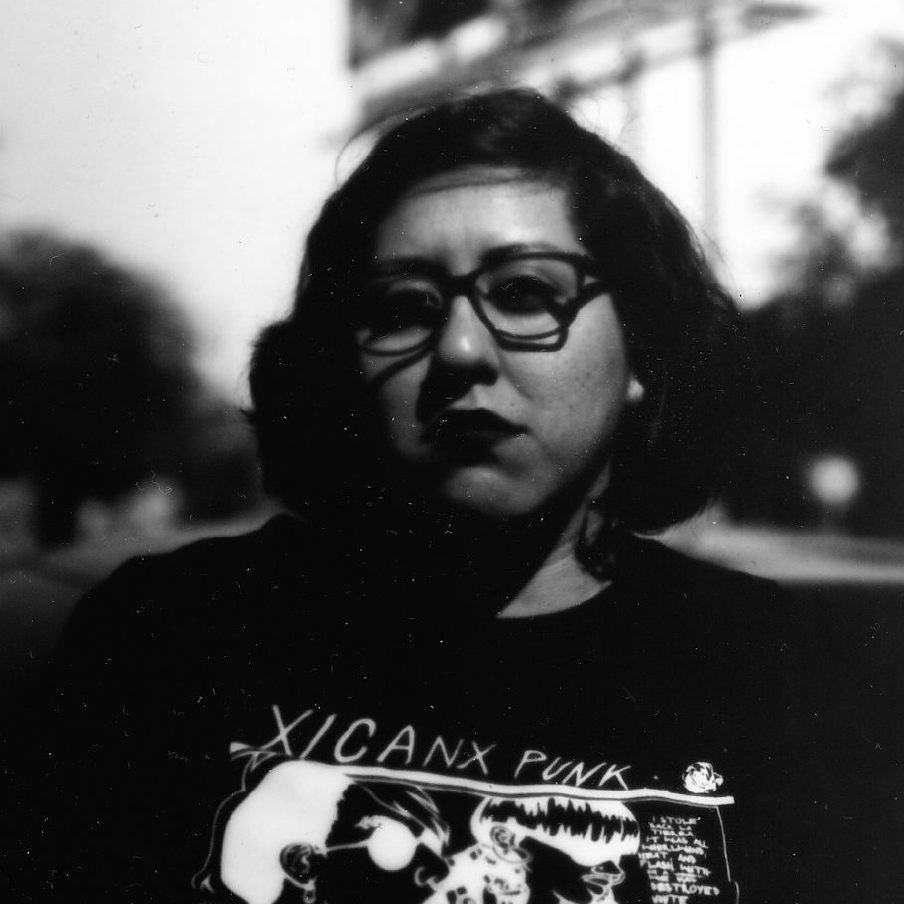 Yolie Contreras
Yolie Contreras (she/her) is a Salvi-Chicanx writer, fundraiser and zinester. She is currently based in Tucson, Arizona, although she was born and raised in Southern California. She believes that words and actions matter, and as long as systems of oppression exist, it is our duty to dismantle them. When she's not working, Yolie spends her time hanging with her husband and their cat, knitting, and perfecting her Animal Crossing island. She can be reached via email or on Instagram @Yolie4u.