By Ashley Lugo, a human who works in fundraising and development
My experience with mental illness is often challenged and gaslighted by family  and friends — but, I never expected that it would play such a role in my career.
So, I have a mental illness. Like any disability, there is shame and stigma associated with mental illness, and because mental illness is something most individuals generally can't see, it also comes with much denial.
(Sidebar: I will use the word 'disability' to refer to all conditions protected by the American's with Disabilities Act (ADA) and that includes mental illness.)
My experience with mental illness is often challenged and gaslighted by family and friends — but, I never expected that it would play such a role in my career. I want to share some of what I've experienced while navigating mental illness in professional spaces and hope to challenge managers and leaders to be better when managing individuals that don't fit a neurotypical mold.
Moments of insensitivity at work
I have mostly worked at nonprofit organizations, many of which did not have adequate human resources (HR) departments. At my last job, the chief operating officer (COO) also acted as HR. They knew that I was dealing with mental illness during my tenure there and honestly, they used it against me. I wouldn't have shared my status with them had it not been that I was having regular panic attacks and changed medication multiple times throughout my tenure.
Changes in medication usually come with side effects that can include a decrease in energy as well as fluctuations in mood. I thought I was doing my due diligence by sharing my mental health status since it was all beyond my control, and I knew it was going to affect my performance at work. During my exit interview with the COO/HR, she started the meeting with, "It's really hard to manage someone with mental illness."
And then she told me that if I didn't get myself together, she would have to fire me.
She then spent the remainder of my exit interview asking me to identify moments throughout my tenure when I was triggered by her/the organization so that she could retroactively understand me (and thus others like me) as well as providing me with unwarranted advice on handling the 'stress' at my next job.
She essentially shamed me and asked me to relive my trauma for her benefit.
If you can't see this as an act of violence, then you are part of the problem.
I had a similar experience with a different employer — also a nonprofit organization. My director lured me into an impromptu meeting where she tried to play good cop/bad cop. With no HR representation present, she made it a point to call out my depression — because I was exhibiting pretty clear symptoms of depression — then attempted to relate to it through a story of the one time she was really sad but had to get over it.
And then she told me that if I didn't get myself together, she would have to fire me.
I quit that job pretty much the following day.
I'm so grateful I've been in great therapeutic relationships during both of these experiences, which helped me through them — but gosh, looking back at the experiences, I can't help but be reminded of how insensitive and unprofessional these leaders were.
Of course, we're all learning, and we all make mistakes. That being said, in a professional environment, what happened to me is not how anyone should speak to people, regardless of their disability status.
This brings me to the first point I want to make: Nonprofits must invest in their employees. People are not dispensable and should not be made to feel that they are. One way that employers can help to establish safety for their employees — disabled or not — is by ensuring there are proper HR protocols in place.
Nonprofits, HR, and the more-for-less management style
How can employees be expected to perform at their best when they don't know who to turn to when they need help?
Anyone that has worked within the nonprofit sector knows that we do a lot with small budgets. This more-for-less mentality extends into how nonprofits are managed as well how many nonprofit leaders opt to function without an HR department or an HR professional. Some get around this by having a member of the leadership team or board function as HR, but I would argue that makes for a major conflict of interest.
Any HR professional job description you look up identifies key HR responsibilities to be organization development, performance management, policy recommendation, and employee relations. How can a leadership employee such as a COO, CEO, or ED be expected to manage key aspects of the organization such as fiscal health, partnerships, organizational growth and serve as a non-partisan individual managing employee relations? How can a board member who has limited contact with the organization's employees understand and manage employee culture?
For example, the COO I mentioned earlier pretty much did more for the fiscal health of the organization than the CEO. They knew all the ins and outs of the organization, not only because they had worked there for over a decade, but also because they put into place many of the goals that the organization strove towards.
They also tried to be friends with most of the people that worked at the organization to the point where lines were extremely blurred. With them, if you had stepped out of line with them while having a friend-to-friend conversation, they would retaliate as the HR manager.
How is this healthy? How can employees be expected to perform at their best when they don't know who to turn to when they need help?
If the annual budget apparently prevents (at least) hiring an HR professional for the organization, why not consider a creative restructuring of the budget? For example, perhaps it doesn't make sense to pay your executive director $200K annually while everyone else is making under $50K, your budget is $2 million, and 40% of that has to go to programming?
I may be a naive, young, nonprofit professional, but even I know how to balance my budget.
Depression is on the rise
All of these elements create a pretty common nonprofit work culture, one where staff members at any given time are experiencing some form of mental health disturbance.
It was important for me to make sure I expressed how crucial HR professionals are to an organization's staff. People need to know who to go to when they have questions regarding the stability of their roles.
But, let me bring it back to mental illness for a moment here.
I am clinically diagnosed with depression and anxiety but many people can experience moments of depression and anxiety. In a study conducted by the Blue Cross Blue Shield, they found that since 2013, "diagnoses of major depression have risen by 33 percent." This study also pointed out that among millennials, fewer of them are seeking treatment due to lack of health insurance or poor insurance plans. Business Insider's Hillary Hoffower also notes that depression is "a growing problem in today's workplace because of trends like rising workloads, limited staff and resources, and long hours."
So, let's think about this in regard to nonprofits who have a history of underpaying and overworking employees. To get around underpaying, you see younger professionals employed in director-level positions because these folx can be asked to do director-level work but can be paid "based on experience," which most of the time equates to a number of years in the workforce.
Additionally, many nonprofits offer little to no health benefits for employees. Sure, there is no requirement for employers to provide health insurance, but now, with the Affordable Care Act, there is a penalty if they have 50 or more full-time employees — a stipulation many nonprofits can skirt around.
And then, there is also the part regarding overworked employees. I have never worked at a nonprofit organization that doesn't have several employees individually doing the work of multiple roles. At one organization that I worked at, one of my colleagues was the program coordinator, website and marketing manager, and a donor data manager.
When my colleague was finally fed up with the structure of their position and left the job for good, the organization didn't hire one individual to fill their role but created three new roles! My guess is they knew no one would apply for a position so clearly mismanaged. This experience is one that I know many nonprofit professionals share and, personally, one that makes me sick.
All of these elements create a pretty common nonprofit work culture, one where staff members at any given time are experiencing some form of mental health disturbance. Mental illnesses can develop during moments of high stress and disorder because mental illnesses are thought to be caused by a variety of genetic and environmental factors.
Don't be insensitive. Be a leader.
Even with a proper HR representative and HR protocols in place, a manager/director must be equipped to lead employees with mental illness. The following are a few things one could do as a manager to support an employee with mental illness.
Be proactive and do your research.
You can't expect that an individual with mental illness will disclose all the details about their illness. You also can't expect that they'll be willing and open to answering all questions you may have about their illness. Additionally, creating an accountability plan with your employee requires collaboration between the two of you, but you should still know what is or isn't appropriate to expect or say.
When my COO/HR manager said that it was hard to manage me because of my mental illness, they followed that up by saying that they tried to do research and couldn't find any articles on this subject. In doing my own research for this essay, I know that is a lie. I found seven articles in less than a second, simply by Googling, "How to manage an employee with mental illness."
It's clear to me that sometimes managers don't really want to help those they manage succeed at their jobs, which leads me to a point I want to make clear: If you expect employees to be complicit and perfect and if you have no desire to mentor, don't go into leadership.
Be flexible.
Employees with mental illness will require accommodations to help cope with and manage their symptoms. According to Dori Meinert at HR Magazine, "The ADA requires most employers to offer accommodations to an employee with a mental illness — even if it is episodic. Accommodations may include reduced work hours as the employee transitions back to work, permission to work from home, or changed duties."
These accommodations will need to be communicated between the employee and employer, and sometimes the necessity of accommodations may creep up suddenly and it may be hard to plan comprehensively in the moment. That's why it's important to remain flexible and collaborative as you can help to make the employee feel supported and not ashamed for requesting accommodations.
Be transparent and don't withhold information.
Does your organization have an employee resource site? Make sure to share it with your employees. Does your organization have a partnership with a health and wellness phone resource center? Share it! Is your HR outsourced or are they a member of your organization/board? Make sure your employees know who these partners are.
While I was working at that organization with the director that threatened to fire me if I didn't get my mental illness 'together,' I didn't know who or where to go regarding my rights in that situation. They never shared any form of an employee manual nor was there a formal orientation that introduced me to our HR rep. Through my research over the years, I've learned that I could have sued for this incident.
As a manager, you should understand that hoarding information is a way of silencing your employees and taking away their power.
Ultimately, all of this matters because in making a safer work environment for individuals with mental illness and disabilities, you make a safe environment for all employees.
If you or someone you know is struggling with mental illness the following is a list of resources to find support.
Find Support — National Alliance on Mental Illness (NAMI)
Help for Mental Illnesses — National Institute of Mental Health (NIH)
National Suicide Prevention Lifeline
Crisis Text Line | Text HOME To 741741 free, 24/7 Crisis Counseling
Mental Health Hotline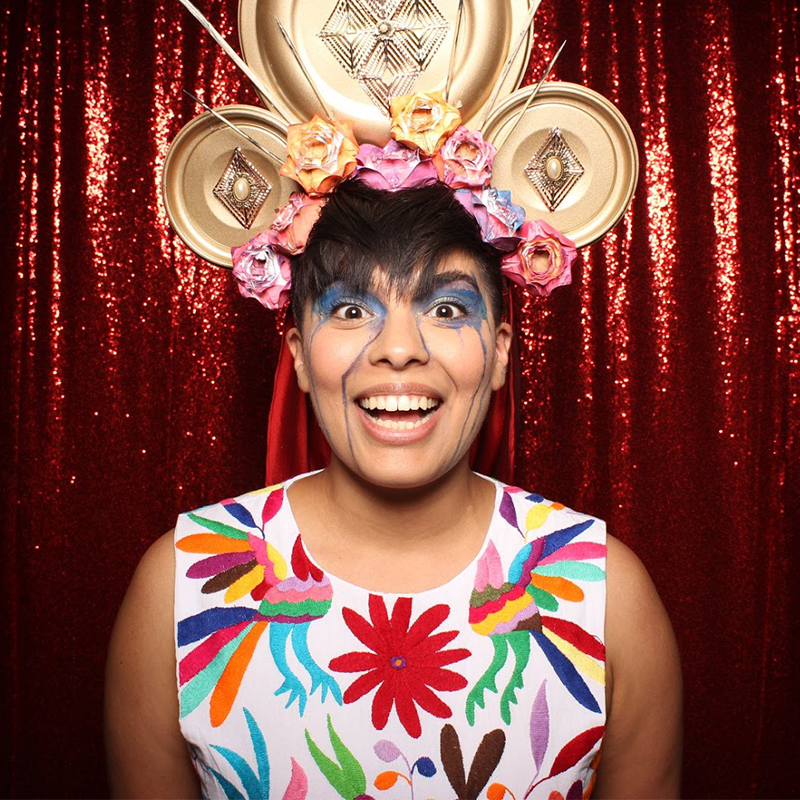 Ashley Lugo
Ashley Lugo (she/they) is a neurodivergent, queer, multiracial, and Latinx person. They have a degree in Vocal Performance from CCPA at Roosevelt University and a patchwork of work experiences in sectors and roles ranging from grocery store clerk to fundraiser. Currently, she is a Grant Writer at Giant Squid Group. When not working, she serves on the board of Thompson Street Opera Company and continues to sing every day in the shower, while cooking, and to her cat, Morena. They savor wine and enjoy long bike rides down Chicago's Lake Shore Drive. Often at the same time! You can find Ashley on LinkedIn — tip them on Venmo.