The CCF Rewind
We're really excited to share new CCF pieces with you this week from the Content Hub because we're gonna get a little meta and a bit theoretical with you today.his week!
READ: "Can anybody hear me? How white nonprofit writing standards erase BIPOC voices — and why that is definitely not OK"
By Yolanda Contreras, professional zinester and fledgling fundraiser
Yolanda wrote an essay about something that happens to BIPOC writers all the time — getting your writing edited to death so that you sound whiter, so that your writing meets arbitrary standards, so that your writing doesn't even sound like you anymore.
And for what?
This is the question she insightfully examines in her essay, which went through the CCF editing process before being released out into the world. The process of working with Yolie on her essay about voice erasure in writing was especially meaningful and a really good check-in for CCF. And we're just really proud of this one.
READ: "What if Jeff Bezos used food banks? An examination of how NPOs subsidize affluence"
By Sapna Sopori, CEO of Sapna Strategies, LLC and career NPO professional
When Sapna wrote in to pitch this essay and talked about how rich people often use nonprofit programs — for free — all the time, we couldn't believe it (as we simultaneously also totally believed it).
In her essay, Sapna shares personal stories of the times she's witnessed this happening, and she breaks down the logic people have in defending this practice. She then gives some tangible ways to upset this practice and offers a four-step plan that we can all start implementing and having conversations around. Read it!
We are always looking for new voices and new perspectives for our Content Hub! Check out our editorial guidelines if you're interested in contributing! Also, FYI, we have a bit of a backlog, so we apologize in advance for the delay in responding to your amazing emails!
Giving Tuesday: Donate to CCF Tomorrow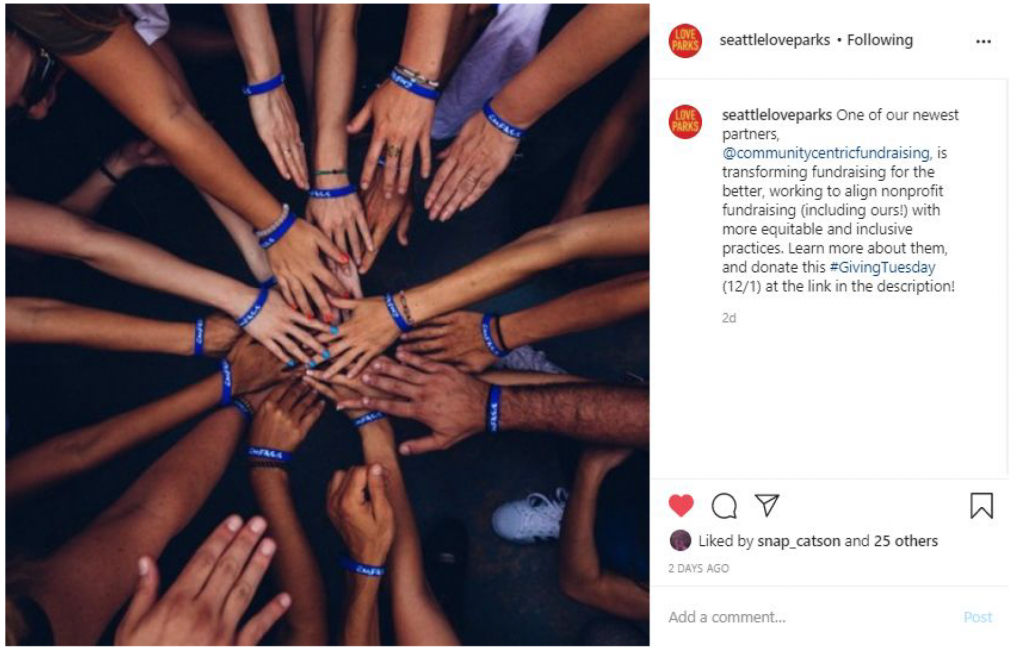 We're so grateful to our partner, Seattle Parks Foundation, who helps keep the CCF engine running. They gave this shoutout to us on their Insta, and we wanted to reinforce that donations we get go toward paying our content creators equitably as well as toward the maintenance of our website and more.
Join CCF's Slack
For those of you who are interested in starting up a CCF group in your own city or just meeting cool new folx, hit up our CCF Slack!