NEW CHAPTERS UPDATE: Join our Slack to link up with other folx in your city!
Hey, everyone, we have an update on you on forming your own CCF group! We're going to organize via this CCF Slack. Please join and start connecting  (The first version of this post had an incorrect link. This one should work. Sorry for the inconvenience!), learning and sharing. Location channels are starting to be created — if you don't see your city there, definitely feel free to start up your own channel.
See how these folx have done it: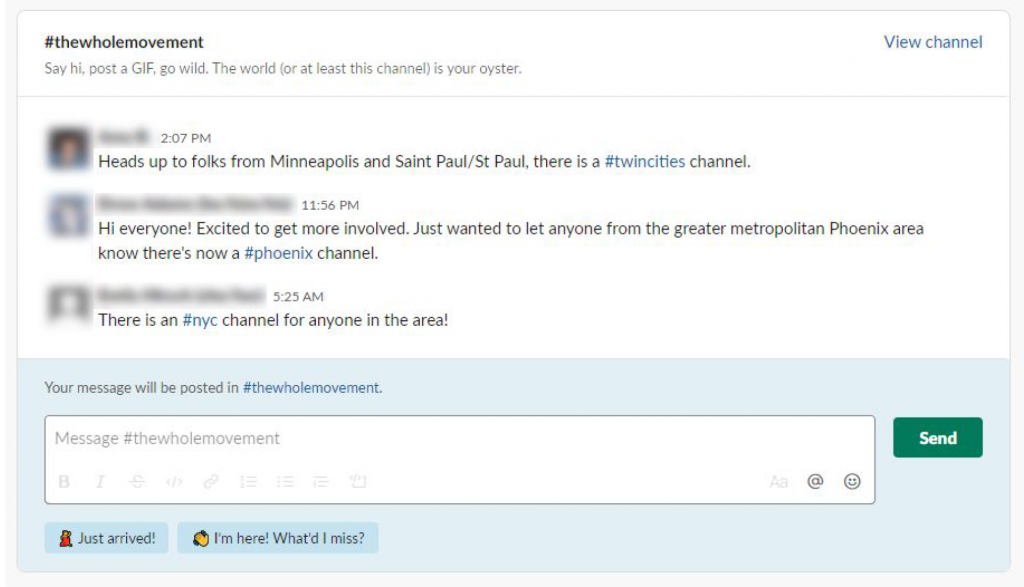 So, why did we choose Slack? We actually voted on it. Last week, a bunch of folx from all over met with some of us from CCF Seattle to talk about how we want to organize. The choices were Slack, a Facebook group, or a Google doc. Slack took the majority of the vote, so we decided to go ahead and try it first. It does not mean that we won't be using other platforms in the future, but we want to have a way to start, and Slack was chosen by the majority.
Acknowledging an error on our part
When we started CCF, we stated that those who want to start a chapter should wait for us to facilitate a connection between members in a city. Upon further thought and reflection, we in Seattle CCF came to the realization that we actually shouldn't be the ones to give folx permission to get started on stuff. We shouldn't have asked you to wait on us. Apologies!
CCF is a movement! Because it's a movement, we want to be more open about trying new things, exploring, and being creative. We want to encourage ourselves and everyone involved to allow ourselves to be messy and make mistakes sometimes in the course of learning!
Slack "rules"
At the moment, we have pretty simple suggestions for using our Slack:
Please be okay with experimenting
Please try and be nice to one another
Please give people grace because some of us have never used Slack before (including most people on the CCF Seattle leadership team!)
Follow these CCF values.
BTW, a note on terminology (Spoiler: We're not calling CCF groups "chapters" anymore)
After some thought, we think that "chapters" sound so formal and hierarchical, so we want to call different CCF locations "groups." So we'd refer to ourselves as the "the Seattle CCF group" or "CCF Seattle." What do you think? (We can talk about it in a Slack channel, if you want!)
CONTRIBUTE TO THE MOVEMENT. DONATE!
CCF is a movement that relies heavily on BIPOC leaders. We strive to pay equitably, understanding the history of uncompensated labor. Your donations go toward paying amazing content creators as well as for the maintenance of this website, virtual events we're putting on, etc. Support the movement by being a donor. Thank you!
MUST-READS + MUST-LISTENS
READ: "Nonprofit Industrial Complex 101: a primer on how it upholds inequity and flattens resistance"
By Sidra Morgan-Montoya, Portland-based artist and writer
Sidra is awesome and did the hard work of creating this well-researched and resourced 101-level piece on what the Nonprofit Industrial Complex is — what it looks like, how it was created, why it's extremely harmful. We think this piece is especially handy, valuable, and shareable because many folx come into this work not yet familiar with terms and concepts like this.
READ: "Reparations: How we white relatives must try to pay back the unpayable debt"
By Hilary Giovale, author/organizer
This open, honest, transparent, and powerful piece from Hilary's upcoming book is about how she learned that everything she was taught about race in school was wrong — and the journey in "paying back the unpayable debt." Hilary asserts that healing will not happen without paying reparations.
LISTEN: "Raises in a Pandemic," with Ananda Valenzuela
By Michelle Shireen Muri/The Ethical Rainmaker Podcast
Giving staff more money instead of taking it away during a pandemic? What! Well, RVC Interim ED Ananda Valenzuela makes an incredibly compelling case for why this isn't just the right thing to do — it's the smart thing to do. Listen to it on Michelle's (fire icon) podcast (comes out every other Wednesday; subscribe!).
LISTEN: "On Word for Wildlife: Interpersonal Philanthropy"
By Tykee James, #BlackBirdersWeek organizer
Tykee is a wildlife conservation activist who found himself with personal donations going directly to his Venmo account from supporters of #BlackBirdersWeek … which led him to wonder: Is that interpersonal philanthropy? In his podcast, he explores this and also remixes CCF Principles, wildlife conservation-style. Well worth a listen!